Who Dunit?
We've taken the classic mystery game and added a FUN farm yard
corn maze twist to it. The solution to the game will change throughout the season!!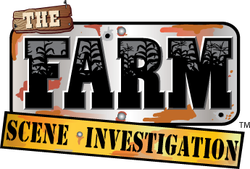 Click picture to meet the animals of FSI
Once again, Farmer Joe is missing! There was an accident and it appears to be foul play. There are seven farm animal suspects that we need you to investigate. Collect the evidence to find the weapon, the criminal, and the location where the crime took place. You will have to locate the 6 hidden location scenes within the black maze. THESE ARE NOT ON THE MAP!! At each location you will find an animal and a tool to eliminate as a suspect and a weapon. Punch your card to keep track of your clues. Hurry! Solve the mystery so you can save Farmer Joe and put the violent farm animal behind bars!!



---
FARM TRACKS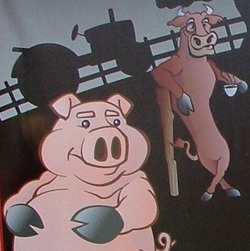 To go along with FSI we have added a kids maze game in the Blue maze called Farm Tracks. It is easy to play and will follow a story similar to Farm Scene Investigation.

Last night six farm animals snuck into the house and stole Farmer Joe's apple pie. He chased the animals into the corn maze and needs you to go into the maze and find their tracks. Place the rubbing paper over the track and rub the track onto the paper.Collect all 6 tracks, then come out and look at the banner to find out which animal belongs to which track. Be sure to let us know who stole the pie so we can punish those pie stealing animals.


---