Birthday Parties at the Maze!!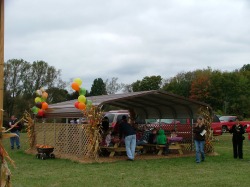 We have 2 covered picnic shelters that each have 6 picnic tables in them. The price is $150 which includes the shelter for 2 and 1/2 hours and admission for 12 people. If you have more than 12 people the cost for each additional person is $6 ages 5 to 11, and $8 ages 12 and up. This price includes all 4 mazes. Gemstone mining is an additional charge and it ranges from $5-$9 per bag of material. Hayrides and barrel train rides which are offered on Saturday and Sundays in October are an additional $1 per person. Courtyard activities that are included in the maze ticket include the jumping balls, corn hole, corn boxes, swing set, tire playground and straw pyramids.
Children under 11 need to be accompanied by an adult into the maze.
You can bring any food or drinks into the maze. There is electric in the shelters. Our concessions do offer a package which includes your choice of a hot dog, chicken tenders, or a corn dog, french fries, and a small pop for $50 up to 15 children. Any child after that is an additional $5. If you would like a larger sandwich instead of the hot dog or corn dog, for example a sausage sandwich please add $2 per person. You can also add a bowl of ice cream for $1 per person. The only thing you would need to provide would be the cake. To Book your party call 330-549-9000 or email
cindy@getlostatmazecraze.com
---